Anatomy Of A Horse – The Back Legs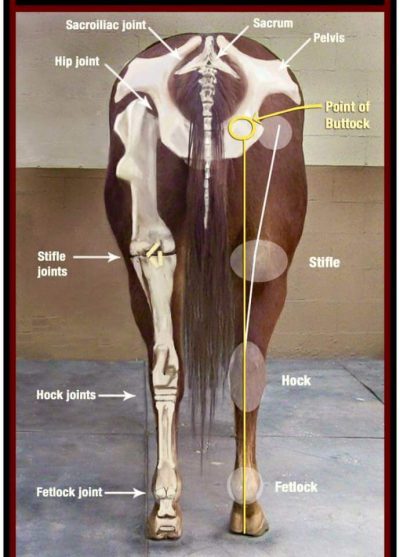 When you are looking at a horse to purchase, there are two things that tend to take priority. The first one is temperament. A horse's behaviour and interaction towards humans says a lot about its past, and if they would be suited to their potential future career. The second main consideration, is conformation.  How a horse is built can greatly affect their ability in a chosen performance field.
While around 65% of a horse's weight is carried by the front limbs, most of the power and forward movement come from their hind legs. Poor conformation can be inherited from poor breeding or a past injury.
Today's information is focusing on the anatomy of a horse's hind legs. Have you ever heard about a horse with a "slipping stifle", or "sacroiliac joint pain" requiring surgery or therapy? In this image the right hand side shows the points of a horse's hindquarter. The bone structure of the hind legs is on the left.
It is important to familiarise yourself with the internal and external structure of a horse's body. You will quickly learn to understand and recognise when a horse has issues. Depending on these issues, it may be in your best interests to walk away and find a different horse to continue your chosen pursuit.
When you do find a suitable horse, you may require transport to get them home. Whether it's Brisbane, Sydney, Melbourne or anywhere along the east coast, our horse transport will get them there safely. Contact us now to find out more.
https://www.eastcoasthorsetransport.com.au/wp-content/uploads/2018/05/13043568_1201016169922709_2541410756836816264_n-e1525319553434.jpg
557
400
pippa
https://www.eastcoasthorsetransport.com.au/wp-content/uploads/2017/05/New-Logo.jpeg
pippa
2018-05-03 05:13:59
2018-05-04 02:26:09
Anatomy Of A Horse - The Back Legs